TEHRAN (FNA)- Iranian Foreign Minister Mohammad Javad Zarif discussed bilateral relations and regional developments with his Iraqi counterpart Fuad Hussein.
Zarif and Hussein also reviewed the ways to promote mutual cooperation in various fields.  The visiting Iraqi top diplomat will confer with Iranian officials over agreements inked during Iraqi Prime Minister Mustafa Al-Kadhimi's recent visit to Tehran.  
He is also supposed to hold talks with other Iranian officials.
In a relevant event in July, Iranian President Hassan Rouhani and Iraqi Prime Minister Mustafa al-Kadhimi agreed to form a special committee to seriously pursue implementation of agreements signed by the two neighboring states.
The agreement was made during the Tuesday July 21 meeting between the two high-ranking officials in Tehran.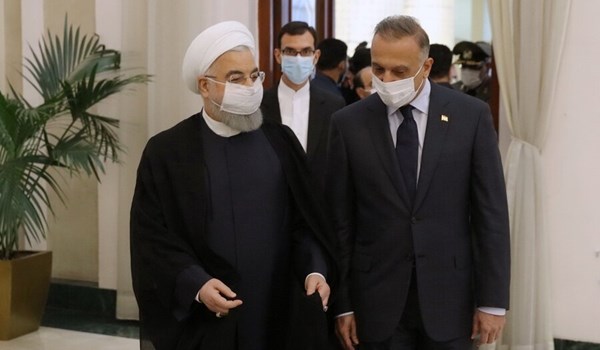 Iranian President Hassan Rouhani (L) and Iraqi Prime Minister Mustafa al-Kadhimi (R)
In the meeting President Rouhani said that the foreign powers cannot disrupt the brotherly relations of the two old neighbors.
"The concern and interest of the two nations and governments of Iran and Iraq towards their fates is a great asset on the path of all-out development of their relations," the Iranian president added.
He said that Iran and Iraq share numerous commonalities in cultural, religious, historical and political fields and the seminaries of Qom and Najaf are regarded as two great assets of Iran and Iraq.
Rouhani said that Iran and Iraq can pass through the difficult situation created by the deadly coronavirus, noting that the two countries should accelerate implementation of all the existing agreements through widespread cooperation.  
"The Islamic Republic of Iran firmly supports the determining role played by Iraq as a powerful Muslim and Arab country in the region in line with restoring peace and stability," the Iranian president added.
Al-Kadhimi, for his part, described relations between Iran and Iraq beyond the ordinary ties between two neighboring states, and said, "The Islamic Republic of Iran and the Republic of Iraq enjoy strategic relations and the deep affection of both countries' people to each other is a strong backup for these strategic relations.