TEHRAN (FNA)- A senior member of Iran's Expediency Council (EC) underlined the country's capability to produce 8.5mln barrels of oil.
"Iran's capacity to produce oil is very high and we can boost daily crude production to 8.5mln barrels," Ali Aqa Mohammadi said.
He added that the contracts signed recently between the National Iranian Oil Company (NIOC) and 17 E&P companies will add 1mln barrels of oil to the country's crude production capacity.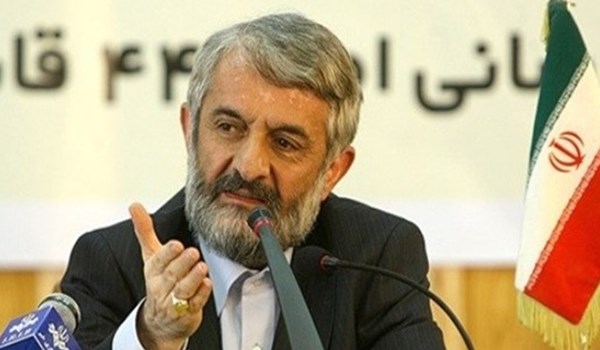 EC member Ali Aqa Mohammadi
In relevant remarks last month, Iranian Oil Minister Bijan Zangeneh underlined that Washington has been unable to bring the Islamic Republic's energy and oil activities to a halt despite unilateral sanctions imposed on the country.
"Sanctions are not permanent. We need to increase our oil production capacity so that we can return to the market with strength," Zangeneh said, addressing a ceremony to launch gas supply to 77 Iranian villages.
He reiterated importance of increasing the capacity of oil production for Iran, and said, "By doing this, we will take back the share of Iran from the global market."
Zangeneh, meantime, hailed the amount of Iran's exports of petroleum products, and said gas distribution projects had facilitated exports of petroleum products.
"The amount of the exports of petroleum products in Iran have been unprecedented thanks to gas distribution projects," he said.
Zangeneh, meantime, underlined that the activities in the oil industry have continued vigorously for more than two years since the sanctions were imposed.
"We stand firm and buoyant to serve the goal of serving the people," Zanganeh said. "There are many problems, but we have kept the activities in the oil industry alive during the two years that have passed since the sanctions were imposed."
He said that now two years and three months have passed since the severe sanctions against Iran were imposed and during this period not only no plans in the oil industry had not been halted, but "we have also started new plans".
Zanganeh said that thanks to the increase in gas production and gas supply in the country, the numbers for exporting products are unique, adding, "I cannot announce any figures because of national interests, but the numbers are really unique and have brought income to the country."