TEHRAN (FNA)- Iran's Deputy Judiciary Chief for International and Human Rights Affairs Ali Baqeri warned the Arab states which have normalized ties with Tel Aviv that Israel will soon victimize them for its hegemonic policies.
"You will soon become a bait for the hegemonic policies of the occupier regime and then the US and Europe will not help you," Baqeri said on Monday, addressing the UAE and Bahrain which have normalized relations with Israel.
He added that once Israel starts striking these Arab states, they will approach Iran shamefully.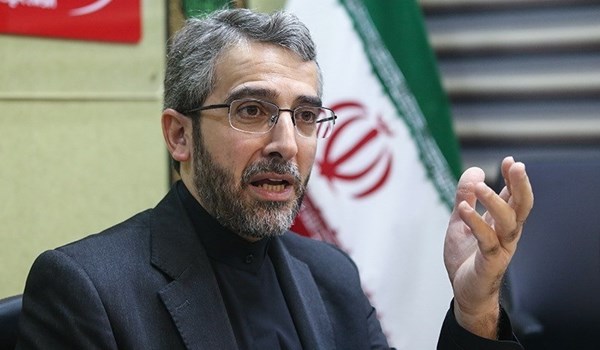 Deputy Judiciary Chief Ali Baqeri
Baqeri reminded of former Iraqi dictator Saddam Hussein who took assistance from the regional Arab countries to invade Iran, but once Saddam used their possibilities, he attacked the same Arab states.
US President Donald Trump tweeted the news of the Israel-Bahrain normalization deal earlier this month after he spoke by phone to Bahrain's King Hamad bin Isa Al Khalifa and Israeli Prime Minister Benjamin Netanyahu.
Following the announcement at the White House, Palestinian officials condemned the Israel-Bahrain normalization deal announced by US President Donald Trump as another "stab in the back" by an Arab state.
The accord to normalize diplomatic ties between Israel and Bahrain came one month after the United Arab Emirates (UAE) agreed to normalize ties with Israel under a US-brokered deal.
On August 13, President Trump announced a deal brokered by his government between Israel and the UAE which he said would lead to full normalization of ties between the two.
Critics see the deal as the latest attempt by Trump to save his presidential campaign against the Democrat Joe Biden.
In relevant remarks earlier in September, Iranian Government Spokesman Ali Rabiyee said normalization of ties with Israel is a strategic mistake, stressing that any kind of insecurity in the region will be seen from now on by Tehran as to be the outcome of this compromise deal.
"It is a strategic mistake to normalize ties with Israel and the responsibility for all the consequences of the action falls on the Bahraini government and any government that has compromised," Rabiyee said.
"Iran considers the Zionist regime's interference in the region as a threat," he noted.
"The oppressed people of Palestine and Muslims who have lived with the Palestinian cause will not allow any normalization of relations," the spokesman continued.