TEHRAN (FNA)- Iranian Defense Minister Brigadier General Amir Hatami in a ceremony on Sunday unveiled the country's first home-made middle-sized wind turbine.
The components of the new turbine are completely optimized compared to foreign models, and in this turbine, the ability of the converter to be placed inside the tower leads to less space occupation.
General Hatami addressed the ceremony via video conferencing, explaining that the change of the camera control area from speed control to torque control, removal of speed sensor and operation without camera sensor and energy production with low speed winds (4 meters per second) are the features of the turbine.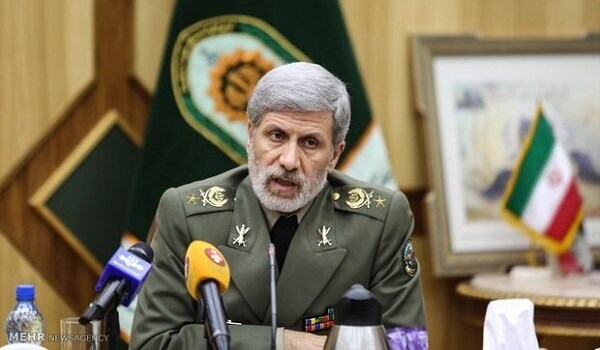 Iranian Defense Minister Brigadier General Amir Hatami
During the ceremony, General Hatami also inaugurated a laboratory and research center for industrial lead acid batteries as well as the largest industrial battery production complex in the country.
In a relevant development last month, Iranian researchers at Kashan University succeeded in the mass-production of gas micro turbines which can generate electricity and heat concurrently.
The micro turbines which can only be manufactured by 10 countries in the world are applied in the generation of electricity and heat at homes and commercial, industrial and strategic centers in Iran.
Mass-production of such micro turbines with the aforesaid features has been carried out for the first time in the world and the full cycle of designing, development, sample production, obtaining the necessary standards and final production were all completed by Iranian scientists.
Samples of the micro turbines produced in Iran have been exported to Russia, Italy and Britain so far.