TEHRAN (FNA)- Iranian President Hassan Rouhani stressed his country's willingness to further develop relations and cooperation with Japan in all areas.
President Rouhani in a message congratulated newly-appointed Japanese Prime Minister Yoshihide Suga on his election, calling for all-out cooperation between the two nations.
He expressed the hope that relations between Iran and Japan will be further promoted in the interests of the two nations and in different political, economic, and cultural fields.
The Iranian president also wished health and success for Yoshihide Suga and prosperity for the Japanese nation.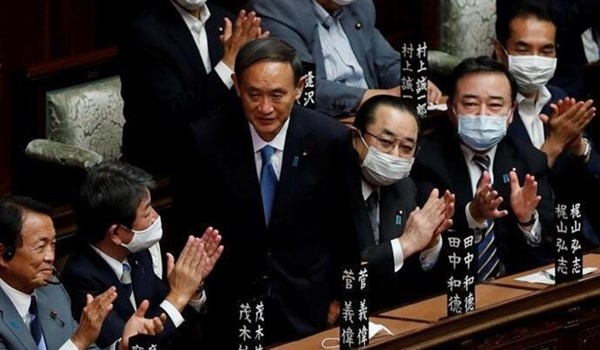 New Japanese Prime Minister Yoshihide Suga
He further expressed gratitude to the former Japanese prime minister, Shinzo Abe, for his considerable contributions to Iran-Japan relations.
The lower house of Japan's parliament elected Yoshihide Suga as prime minister on Wednesday, following the resignation of Abe over health issues.
Rouhani and Abe had in a meeting in Tokyo in December discussed mutual cooperation and regional developments.
During the meeting in the Japanese capital, President Rouhani and Abe explored avenues for bolstering and reinvigorating bilateral relations, and underlined the need to enhance the level of trade exchanges between the two countries.
The two sides also discussed the implementation of the Joint Comprehensive Plan of Action (JCPOA), the re-imposition of the US sanctions on Iran and energy cooperation.