Iranian Spokesman: Regional Insecurity Only Outcome of Compromise Deals with Israel
TEHRAN (FNA)- Iranian Government Spokesman Ali Rabiyee said normalization of ties with Israel is a strategic mistake, stressing that any kind of insecurity in the region will be seen from now on by Tehran as to be the outcome of this compromise deal.
"It is a strategic mistake to normalize ties with Israel and the responsibility for all the consequences of the action falls on the Bahraini government and any government that has compromised," Rabiyee said.
"Iran considers the Zionist regime's interference in the region as a threat," he noted.
"The oppressed people of Palestine and Muslims who have lived with the Palestinian cause will not allow any normalization of relations," the spokesman continued.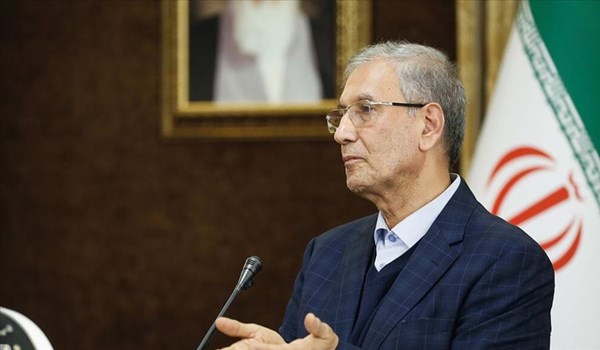 Iranian government spokesman Ali Rabiyee
He reiterated that the move is not in favor of the regional people, but in favor of the US President Donald Trump's campaign.
US President Donald Trump tweeted the news of the Israel-Bahrain normalization deal on Friday after he spoke by phone to Bahrain's King Hamad bin Isa Al Khalifa and Israeli Prime Minister Benjamin Netanyahu.
Following the announcement at the White House, Palestinian officials condemned the Israel-Bahrain normalization deal announced by US President Donald Trump as another "stab in the back" by an Arab state.
Friday's accord normalizing diplomatic ties between Israel and Bahrain comes one month after the United Arab Emirates (UAE) agreed to normalize ties with Israel under a US-brokered deal.
On August 13, President Trump announced a deal brokered by his government between Israel and the UAE which he said would lead to full normalization of ties between the two.
Critics see the deal as the latest attempt by Trump to save his presidential campaign against the Democrat Joe Biden.
In relevant remarks on Tuesday, Iranian Lawmaker Ebrahim Azizi said the recent compromise deal inked by Manama and Abu Dhabi with Israel has humiliated the two Arab regimes, adding that Bahrain and the UAE have slaughtered the Palestinian cause at the behest of Washington.
"The normalization of ties with Israel is equal to humiliation," Azizi said, and noted, "Unfortunately, Bahrain and the UAE have sacrificed the goals and aspirations of the Palestinian people to the oppressive demands of the US and its rulers."
"It is a betrayal of interests [of Islamic Ummah] and lack of commitment to the Muslim Ummah and its leaders," he added.
"The United States is taking such steps to save itself from the crises it is facing and its tarnished image in the world," Azizi stressed.
The MP said that Trump has engineered the compromise deal to prevent the decline of the child-killing Israeli regime and also save face for himself before the upcoming presidential elections.
He reiterated that Iran will support every measure in favor of the Resistance Axis.