February 14 Coalition: Compromise with Israel "Al-Khalifa's Decision, Not People"
TEHRAN (FNA)- Head of the Politburo of the February 14 Youth Coalition Ibrahim al-Aradi said that the Bahraini people are all opposed to the normalization deal between the al-Khalifa regime and Israel.
"The world public opinion should know that Bahrain has not compromised with Israel but the measure has been adopted merely by the al-Khalifa regime," al-Aradi told the Arabic-language al-Ahd news website on Tuesday.
"The Bahraini people have never accepted compromise with Israel and will take revenge for years of secrete ties with the Zionist regime from Bahraini King Hamad bin Issa," he added.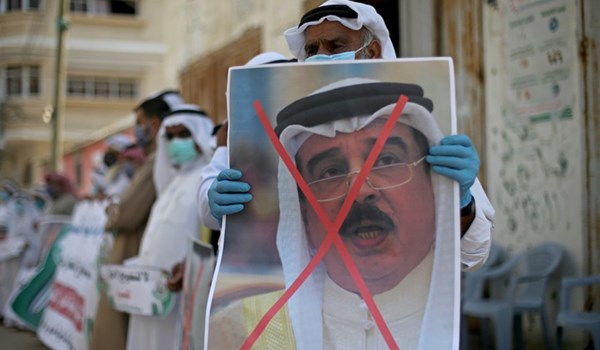 Al-Aradi said that the al-Khalifa rulers have ignored the values and killed Bahrain's identity.
US President Donald Trump tweeted the news of the Israel-Bahrain normalization deal on Friday after he spoke by phone to Bahrain's King Hamad bin Isa Al Khalifa and Israeli Prime Minister Benjamin Netanyahu.
Following the announcement at the White House, Palestinian officials condemned the Israel-Bahrain normalization deal announced by US President Donald Trump as another "stab in the back" by an Arab state.
Friday's accord normalizing diplomatic ties between Israel and Bahrain comes one month after the United Arab Emirates (UAE) agreed to normalize ties with Israel under a US-brokered deal.
On August 13, President Trump announced a deal brokered by his government between Israel and the UAE which he said would lead to full normalization of ties between the two.
Critics see the deal as the latest attempt by Trump to save his presidential campaign against the Democrat Joe Biden.
Bahrain's main opposition group, the al-Wefaq National Islamic Society, in a statement condemned a deal between Israel and Bahrain as an "ultimate betrayal of Islam and Arabs and a departure from the Islamic, Arab and national consensus".
It also said that the Israel-Bahrain agreement is void of any legitimacy whatsoever.
"Bahraini people, with all their religious, political, intellectual and societal differences, are unanimous in adhering to Palestine and rejecting the entire Zionist entity and standing with Palestine until the last piece of land is liberated from it," the group added.
Al-Wefaq concluded that normalization with Israel is "a blatant contradiction to the will of the Bahraini people and a coup against their principled creed in rejecting the occupation of Palestine".