TEHRAN (FNA)- Iran's Judiciary Chief Seyed Ebrahim Rayeesi blasted the UAE and Bahrain for normalizing ties with Israel, saying that their dream of growing more powerful by clinging to Tel Aviv will never come true.
"No one will become powerful by betrayal of Palestine and the holy Quds and these relations and conditions will not remain stable and will pave the ground for their annihilation," Rayeesi said, addressing the judiciary officials in Tehran on Monday.
He added that based on the divine promises, the Zionist regime is perishable, noting that normalization of ties with Israel indicates that the UAE and Bahrain do not believe in God and His promises.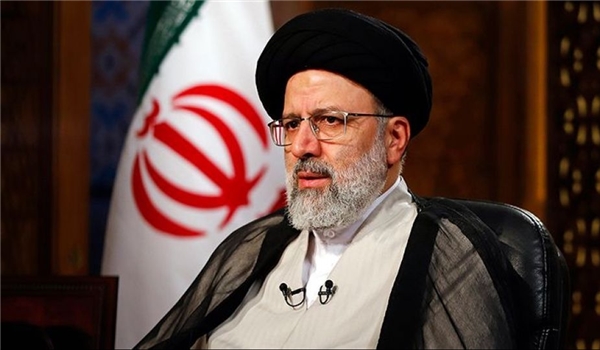 Iran's Judiciary Chief Seyed Ebrahim Rayeesi
Rayeesi said that the UAE and Bahraini rulers even do not believe in democracy because their people do not favor betrayal of the Palestinian cause.
Seventeen Bahraini political streams and associations, including the 14th of February Youth Coalition, in a statement voiced opposition to Manama's decision to normalize relations with Israel, warning that it will be a detrimental move against peace in the region.
"No type of normalization of relations between certain countries and the Zionist regime has ever led to peace and restoration of the Palestinian nation's rights and instead has encouraged the enemy to commit more crimes against Palestine and sanctities of Arabs and Muslims, including the holy Quds," the statement said, the Arabic-language Arabi 24 news website reported on Monday.
It added that the peace agreement between Bahrain and Israel, brokered by the US, was a big shock to the Bahraini nation, political associations, civil society and all national figures.
US President Donald Trump tweeted the news of the Israel-Bahrain normalization deal on Friday after he spoke by phone to Bahrain's King Hamad bin Isa Al Khalifa and Israeli Prime Minister Benjamin Netanyahu.
Following the announcement at the White House, Palestinian officials condemned the Israel-Bahrain normalization deal announced by US President Donald Trump as another "stab in the back" by an Arab state.
Friday's accord normalizing diplomatic ties between Israel and Bahrain comes one month after the United Arab Emirates (UAE) agreed to normalize ties with Israel under a US-brokered deal.
On August 13, President Trump announced a deal brokered by his government between Israel and the UAE which he said would lead to full normalization of ties between the two.
Critics see the deal as the latest attempt by Trump to save his presidential campaign against the Democrat Joe Biden.