TEHRAN (FNA)- Representative of the Iranian Jewish community at the parliament Homayoun Sameh Yah denounced the French weekly Charlie Hebdo's republication of insulting cartoons of Prophet Mohammad (PBUH), describing it as unjustifiable.
"The followers of all religions, even Buddhism, condemn the blasphemous act of the French magazine and consider it as unjustifiable," Sameh Yah told FNA on Saturday.
He blasted the French for attempting to justify sacrilege of Islamic sanctities under the pretext of freedom of expression, and said freedom of expression pertains to acts which do not disturb others or their sentiments.
"Sacrilege of Islam Prophet (PBUH) has disturbed the world Muslims' sentiments and we, the Iranian Jews, condemn it and view it as unacceptable and unjustified," Sameh Yah said.
Supporters of right-wing Danish politician Rasmus Paludan, who leads the anti-Islamic group, Tight Direction (Stram Kurs), burned a copy of Holy Qur'an in the Southern Swedish city of Malmo during an illegal gathering on August 28.
Also, on September 1, the ill-reputed French Magazine Charlie Hebdo also republished blasphemous cartoons of the Prophet of Islam on the eve of the trial of suspects in a deadly attack on the paper's office five years ago.
People across the world and different cities of Iran have held rallies to protest at the recent insulting moves against Islam Prophet Mohammad (PBUH) and the holy Quran in the European states, condemning French President Emanuel Macron for his support for the blasphemous acts.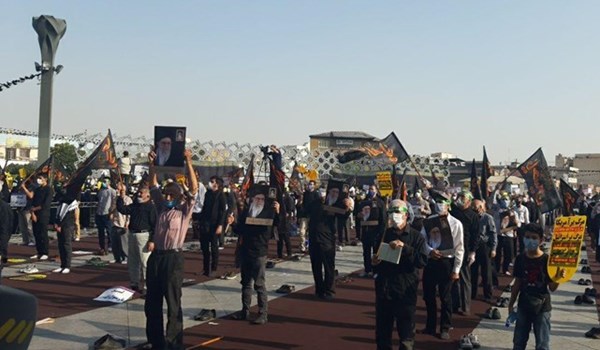 A host of Iranian officials have also condemned the sacrilegious move.
Iranian Parliament Speaker Mohammad Baqer Qaibaf condemned Charlie Hebdo's blasphemous act, and said that the Muslims of the world would unanimously deplore this "unforgivable and vile sin".
Qalibaf referred to the blasphemous move taken by Charlie Hebdo in insulting Prophet Mohammad (PBUH), and wrote on his Instagram account that "the insult to the Prophet of Goodness once again showed the deep-rooted enmity of the arrogant criminals against the message of love and affection of the Messenger of God all over the world."
He reiterated that the Muslims of the world will unanimously condemn this unforgivable and vile sin.