TEHRAN (FNA)- Iranian President Hassan Rouhani blasted the US administration for blocking the country's efforts to receive loan from the International Monetary Fund (IMF) to fight against coronavirus, saying that the American officials have forgotten humanity.
"We demanded the IMF for $5bln to assist us during the coronavirus outbreak for vaccine and medicine; all parties have voiced their agreement, but the US does not allow us to take the loan. They have distanced themselves from humanity to such an extent," Rouhani said, addressing a meeting of the National Coronavirus Campaign Headquarters in Tehran on Saturday.
He added that even the friendly states whose banks are holding Iran's money have been pressured by the US not to provide the country with access to its assets.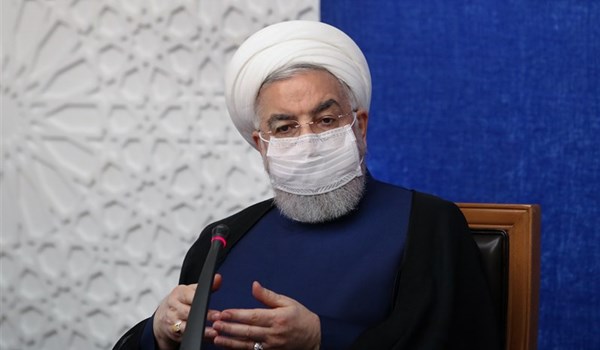 Iranian President Hassan Rouhani
"History has not witnessed such a crime, as you may not find any other country that cannot withdraw money from foreign banks to purchase and import medicine for its people," Rouhani said.
He, meantime, said that the Americans are angry with the Iranian government's appropriate management of the coronavirus outbreak despite the harshest-ever sanctions imposed on the country.
On March 12, Foreign Minister Mohammad-Javad Zarif wrote in a tweet that the Managing Director of the International Monetary Fund Kristalina Georgieva had "stated that countries affected by COVID19 will be supported via Rapid Financial Instrument. Our Central Bank requested access to this facility immediately." But the IMF refused to supply Iran with the money under the US pressures.
In relevant remarks in April, Rouhani lashed out at the US sanctions and pressures which have deprived the Iranian people of their right to import drugs and medical equipment amid the coronavirus outbreak.
"The Americans violate the approvals of the World Health Organization (WHO) and the White House which was a terrorist in economic fields is now a terrorist in the treatment sector as well," President Rouhani said, addressing a cabinet meeting in Tehran.
He also called on the international organizations, including the International Monetary Fund (IMF) to comply with their responsibility without being influenced by certain countries, saying, "It is not acceptable to us if they discriminate between us and other countries."
"It is a historical shame for the US ruling system which continues its pressures on the great Iranian nation in such conditions," Rouhani said, stressing that the Iranian nation can overcome the problems.