TEHRAN (FNA)- Friday prayer leaders across Iran strongly denounced the French weekly Charlie Hebdo's republication of insulting cartoons of Prophet Mohammad (PBUH), stressing that sacrilege of Islam's Prophet means sacrilege of all divine prophets.
All Friday prayer leader in Iran said the recent disrespect of the Prophet of Islam and the Holy Quran has been orchestrated by the Global Arrogance, adding that this vicious act is indicative of the victory of Islam and the Islamic Ummah.
They all underlined that the support of the hated ringleaders of Global Arrogance for this ugly conduct is totally unforgivable.
The Friday prayer leaders noted that it is the duty of all freedom-seekers in the world to stand up against this impudence.
During an illegal gathering on August 28, supporters of right-wing Danish politician Rasmus Paludan, who leads the anti-Islamic group, Tight Direction (Stram Kurs), burned a copy of Holy Qur'an in the Southern Swedish city of Malmo.
Also, on September 1, the ill-reputed French Magazine Charlie Hebdo also republished blasphemous cartoons of the Prophet of Islam on the eve of the trial of suspects in a deadly attack on the paper's office five years ago. 
In a relevant event on Thursday, a large number of Iranian people in the capital city of Tehran held rallies to condemn the recent insulting moves against the Holy Quran and Prophet Mohammad (PBUH) in a number of European states and French President Emanuel Macron's support for them.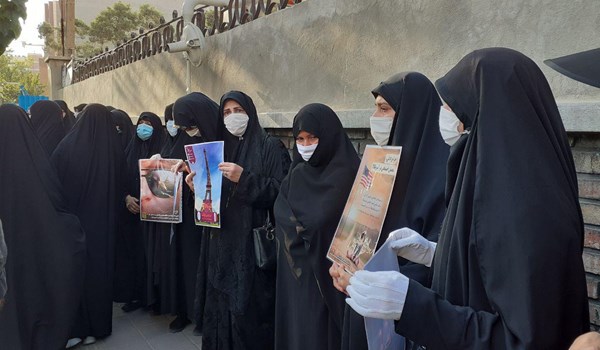 The protestors deplored the French government for supporting the blasphemous acts against the sanctities of Muslims, chanted slogans against Macron who supported them under the pretext of advocacy for freedom of expression.
The slogans chanted by the protestors underlined that sacrilege of the holy Quran and Prophet Mohammad (PBUH) indicates the arrogant governments' weakness and such acts will backfire on them.
In relevant remarks on Monday, Iran's Judiciary Chief Seyed Ebrahim Rayeesi deplored the recent insulting moves against the Holy Quran and Prophet Mohammad (PBUH), and warned of the West and Israel's plots to undermine Islam's power and might in the world.