TEHRAN (FNA)- Iranian Foreign Ministry Spokesman Saeed Khatibzadeh underlined Tehran's serious pursuit into the fate of kidnapped Shiite Cleric Imam Musa al-Sadr.
"Disappearance of Imam Musa al-Sadr is one of the important issues that the Islamic Republic of Iran has always pursued in the past few years and will keep it on its agenda until yielding results and clarification of the reality," Khatibzadeh said on Saturday on the occasion of the 42nd anniversary of Sadr's disappearance in Beirut.
He reminded of al-Sadr's efforts to fight against occupation and hegemony in the region and support for the Palestinian and Lebanese people, and said the opponents of Lebanon's freedom and independence were after his omission but today al-Sadr belongs not only to Lebanon and Iran but also to the entire region.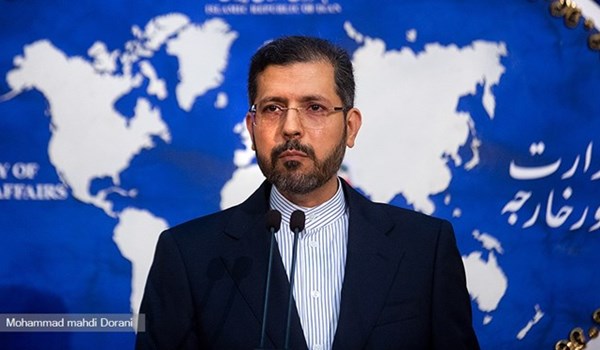 Iranian Foreign Ministry Spokesman Saeed Khatibzadeh
"We, at the foreign ministry in cooperation with the Lebanese friends, are pursuing Imam Musa Sadr's case in different ways despite its complications, and follow ups and talks have been held at bilateral and international levels to clear his fate and his two companions' fate and God willing, they will continue until gaining results," Khatibzadeh said.
The Lebanese parliament speaker said in 2017 that he strongly believed that the country's prominent Shiite leader Imam Musa al-Sadr, who went missing with two companions over 40 years ago in Libya, was still alive, calling for collective efforts to find out about the fate of the cleric and his companions.
Speaking at a ceremony marking the 39th anniversary of Sadr's disappearance in Beirut, Nabih Berri called on Lebanese media outlets to follow up on the clergyman's fate, stressing that Lebanese judicial officials are also looking into the case, presstv reported.
The fact-finding mission formed to inquire about the case has however been unable to visit Libya due to violence and political instability in the North African country, the top Lebanese legislator argued.
Imam Musa al-Sadr was a highly revered Shiite cleric of Iranian descent, who founded the Lebanese Amal (Hope) Movement in 1974. He came to Lebanon in 1959 to work for the rights of Shiite Muslims in the port city of Tyre, located about 80 kilometers (50 miles) South of Beirut. 
The prominent Shiite cleric disappeared on August 31, 1978, during an official visit to the Libyan capital Tripoli.
Imam Musa al-Sadr was accompanied by Sheikh Mohammad Yaqoub and journalist Abbas Badreddine.
Lebanon still holds former Libyan officials responsible for the disappearance of the trio.
Since Muammar Gaddafi was deposed and killed in 2011, Lebanon and Iran have repeatedly called on the Libyan government to launch an investigation into Sadr's disappearance. 
Hannibal Gaddafi, the son of the Libyan dictator, is currently in custody in Lebanon, facing charges of withholding information regarding Sadr's case.
In August 2016, Sadr's family filed a lawsuit against Gaddafi over his role in the disappearance of the senior Shiite cleric.