TEHRAN (FNA)- Minister of Road and Urban Development Mohammad Eslami said threatening of Iran's passenger plane by US fighter jets is a terrorist move, and added that Civil Aviation Organization of Iran (CAOI) has filed a complaint at the International Civil Aviation Organization (ICAO).
Speaking to FNA on Friday about the hostile move of the US fighter jets against the Iranian Mahan Airbus late on Thursday, Eslami said, "This is a terrorist act which has been carried out by the US lawless and oppressive government. This is considered an international aggression typical of the lawless American government."
"Our passenger plane has been flying in the international commercial trajectory and corridor and the threat of the US fighters was illegal and inhumane," he added.
Iran's Civil Aviation Organization has presented its protest against this conduct to the ICAO and we will pursue the issue legally till convicting the United States.
The minister stressed that the ICAO is expected to issue a statement on this inhumane behavior of the US government.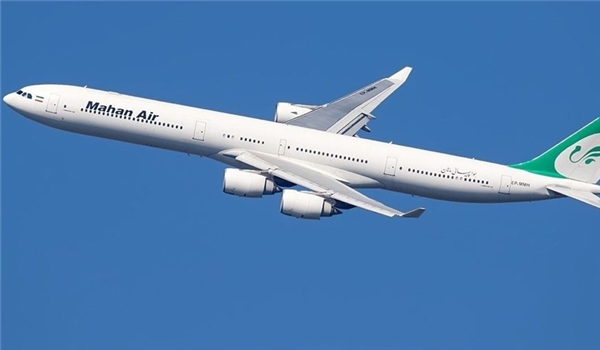 Two US fighter jets approached a Mahan Air Tehran-Beirut flight over the Syrian sky in a highly risky move and the captain of the Iranian passenger plane was forced to make a sudden change of direction and altitude, causing several injuries.
The captain of Mahan Air Flight No. 1152 later said the pilots of the two hostile planes have identified themselves as US army pilots during a radio contact.
A video posted by a reporter of Iran's state-run TV who was aboard the plane showed an F-15 fighter jet from the window of the plane and comments from a passenger who had blood on his face.
In a later interview from Beirut, the reporter said three passengers have been wounded during "the US planes' intentional move".
Iranian Foreign Ministry Spokesman Seyed Abbas Mousavi said Iran's Ambassador to the UN Majid Takht-Ravanchi has informed the UN Secretary-General Antonio Guterres of the incident, and warned that "in case of any incident for this plane on the way back home, the Islamic Republic of Iran will take the United States reponsible".
"A similar message has been sent to the Swiss ambassador to Tehran," the spokesman added. The Swiss embassy hosts the US interests section in Iran in absence of formal diplomatic ties between the two countries.
Mahan Air told FNA later that several passengers have been wounded during the incident and have been taken to a hospital in Beirut and others have evacuated the plane sound and safe.
It said the passenger jetliner refueled to fly back to Iran.
The jetliner flew back home early Friday morning.